Elder & Cannon extend Tollcross housing renewal
August 7 2017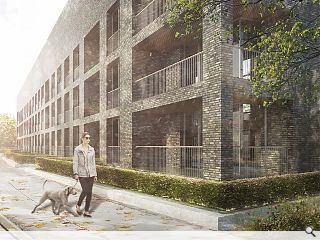 Tollcross Housing Association, in partnership with Elder & Cannon, are taking forward plans to build a
second wave of housing on Tollcross Road
following the start of work to build the organisations new headquarters and phase one homes.
Taking nearby tenements for its cue the 24 flats will take the form of a series of blocks designed to reinstate the building line, extrapolating the materiality and proportions of earlier phase one housing.
Elder & Cannon wrote: "The elevational approach to the new residential blocks of both Phase 1 and now Phase 2, essentially reference the traditional tenement with an emphasis on the quality of materials, proportion and depth within the facade.
"A regular pattern of appropriately scaled windows will define the main street elevations punctuated by larger and deeper openings defining entrances and ground floor sun terraces. Importantly this pattern will break at significant points such as corners, terminations and at areas of greater civic significance such as the small square adjacent to the office and the set backed corner of Dunira St/Braidfauld St."
The site, formerly occupied by inter-war tenements, has views across Tollcross Park.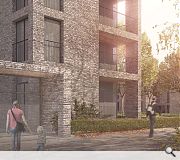 High quality public realm will knit the development into surrounding streets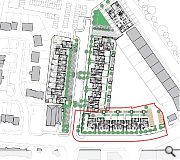 The work will complete a triangular island site
Back to August 2017