RankinFraser swing into action at Bowling
July 27 2017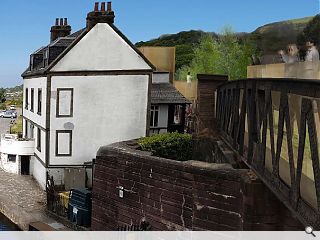 Landscape architects RankinFraser are teaming up with Scottish Canals to
press a disused railway viaduct at Bowling Basin, West Dumbartonshire, back into service as a linear park and walking route
.
Complementing ongoing work to rejuvenate the basin area the project will see the viaduct and a number of bridges, including one swing bridge, link up with the cycle network, safeguarding the structures themselves in the process.
Offering elevated vantage over both the Forth & Clyde Canal joins the River Clyde new planting will be introduced to green the bridge span while preserving views of the steel latticework and beams, which will be fenced off with a 1.8m high mesh screen for safety.
Connecting embankments will be given over to tree planting with cyclists and pedestrians carefully segregated. A historic canal swing bridge meanwhile will be restored and exposed via steel mesh pathways, creating a viewing platform and seating area.
In a statement Rankin Fraser wrote: "The restoration of the viaduct creates opportunities for further regeneration in Bowling, due to its potential to become a new landmark in the town and its ability to draw cyclists and visitors to the harbour."
A lift is proposed to ferry pedestrians up to viaduct level from
recently restored viaducts
and illuminations at night will draw attention to the revitalized structure from surrounding roads.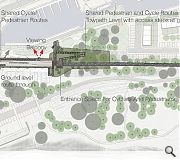 Custom signage will alert passersby to the new route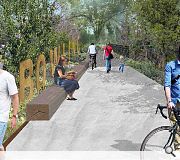 Set viewpoints will offer visitors a new vantage over Bowling
Back to July 2017