LDN spearhead complex Scotch whisky visitor centre rationalisation
July 27 2017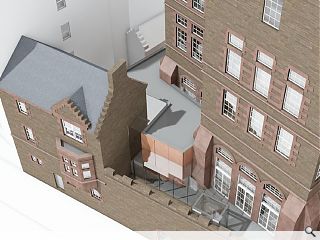 LDN Architects are spearheading efforts to
craft a new Scotch Whisky visitor experience within a former playground and janitor's office at the Old Castlehill School Building in Edinburgh
.
The popular visitor attraction has purchased the site with a view to extending its offer by making use of an existing sub-basement and courtyard area, currently serving as storage, to provide additional support facilities necessary to accommodate tour groups, additional staff accommodation and office space.
This will see existing spaces rationalised and construction of a new build extension for use as a presentation and function suite which will the school with the janitor's house which will be turned over to a whisky tasting area.
An external lift will provide direct access from Johnston Terrace to the sub-basement level.
In their design statement LDN Architects wrote: "The geometry and scale of the proposed link are driven by the site constraints and orientation of the existing buildings as well as the desire to create a space which not only links the two buildings, but also enhances them through offering additional functionality & flexibility to the existing internal spaces.
"The massing and form of the link has been designed to read cohesively against the decorative features and form of the existing buildings to which it adjoins.
"Where the proposed extension abuts the external wall of the Janitor's House a glazed rooflight and full height curtain wall window is proposed. This is designed with the aim of touching the existing building as lightly as possible."
A limited palette of materials has been specified for the build including copper panel wall cladding, frameless glazing and Caithness stone slabs to external courtyard areas.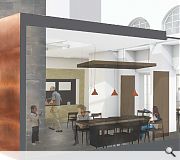 An internal view of the proposed link structure
Back to July 2017