Wilson's Weekly Wrap
|
Send to friend
July 11 2008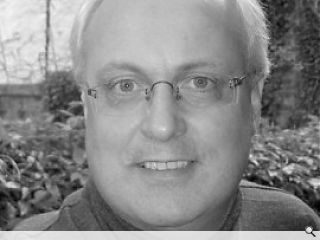 Overextended
If nothing else, the current credit crisis has demonstrated just how financially overextended many housebuilders and developers had become during the recent boom years, their hyper-optimism engorged by the fat profits to be gained from seemingly ever-rising property values. For some, the sudden change in economic circumstances has proved to be terminal, but at least one catastrophic collapse into administration offers an upside, i.e. the end of City Lofts' priapic ambition to construct the tallest building in Scotland. Overshadowing Alexander 'Greek' Thomson's internationally famous St Vincent Street Church in Glasgow, the 40 storey, £120m 'Elphinstone Tower' was intended to contain some 16000 sq metres of office space, 208 apartments and additional retail space. The project has been on the stocks for yonks – indeed the plans were approved by the (ever-acquiescent-to-a-superlative: "Scotland's tallest? yes please!") City of Glasgow Council way back in 2004 when designs for new skyscrapers were all the rage – but its original architects, local boys Cooper Cromer had since been replaced by the obviously much swisher reputation of Conran & Partners from whom new proposals were still to emerge. Whether a replacement design will now see the light of day is anybody's guess, but the hot money must be on the market for grandiose tall buildings failing to recover before the planning permission for this one expires. Time enough, therefore, for Glasgow to draw breath and reconsider the folly of this monumentally inappropriate project.


Which to protect: Heritage or Tourism?
Ever since Edinburgh joined UNESCO's list of World Heritage Sites in 1995, opponents to new development in the city have sought to use the title as a blunt instrument against planning decisions, the constant refrain being that the capital's new-found status could be put in jeopardy by questionable projects. Now the inquiry so long-desired has come to pass: following a wheen of complaints – particularly around the potential impact of the cringingly-named 'Caltongate' development - UNESCO has announced that it will indeed review whether or not its operational guidelines for world heritage sites have been complied with. Council leaders, it has to be said, are fairly blasé in the face of such criticisms and why shouldn't they be? After all, even Historic Scotland who made the original application to UNESCO, was surprised when the city secured the title and local politicians, ever-unable to understand Edinburgh's international reputation for its architecture and urban form from any point of view other than as a tourist attractor, have cavalierly approved some spectacularly poor commercial projects whilst failing to support others that showed real understanding of the grain of the Old and New Towns. Put simply: would the loss of World Heritage Site status seriously affect the commercial vitality of Edinburgh's Festivals or its now year-round tourist industry? Politicians clearly don't think so and while they would no doubt cry crocodile tears if the title were to go, few would be fearful of its potential to be an election problem. Having cried wolf on this so often, however, it would be ironic if opponents were to lose one of their main cudgels with which to bash councillors and developers.



Adaptive re-use – what's not to like?
Other parts of Europe of course have many more World Heritage Sites than the UK – and a far more sensible attitude to conservation and preservation of historic monuments. Spain has huge numbers of designated sites and has long recognized adaptive re-use of buildings as an important means of maintaining the country's patrimony. Not for them the pathetic tussles that seem to endlessly emerge in Scotland when anyone proposes the restoration of a ruin – Castle Tioram, for example, has been a long-running cause celebre for two opposing sides within the heritage lobby, their net achievement so far being the continuing erosion of a listed building. In Spain, by contrast, the Parador programme that has been in effect since 1929 has returned many such buildings to use as upmarket, state-run hotels, with a similar privately-run organization in Galicia co-ordinating the promotion of many of the region's traditional pazos as attractive holiday destinations. Back in Scotland, the forces of darkness and oppression are up in arms over architect Douglas Forrest's plans to transform the crumbling 16th century Slains Castle on the Buchan coastline into 35 holiday apartments. Forrest, it should be said, has an outstanding pedigree in conservation work (his practice is part of the nationwide Acanthus network) and an equally long track record in adapting historic buildings to new uses. No matter – local and national controversy is being whipped up, bizarrely around the notion that Dracula author Bram Stoker might have found inspiration for the Transylvanian fortress of his literary invention in this decaying edifice. Fortunately, Forrest managed to get outline planning consent in place before the story hit the national press and is now working to secure full planning consent with a view to beginning building work early next year. Might we for once see what can be achieved when our obsessive fascination with the noble ruin is put to one side?


What exactly is the problem?
Hot on the heels of securing planning consent for a 17-storey hotel tower beside Edinburgh's Haymarket Station, Richard Murphy has stepped up to the plate once more with a scheme for a house in the New Town. Nothing unusual there you might think: Richard did, after all, build his early reputation on the back of several controversial, but ultimately award-winning house extensions in the area and even a complete scheme of new flats in Dublin Street Mews. This time, however, it is a house for himself on a plot of land in Hart Street that is generating predictable knee-jerk opposition to the very idea of a modern building on the eastern edge of the World Heritage zone as well as lots of newspaper inches and a petition on how out of place it will look. Certainly the laterally-oriented sloping roof design is distinctive, bookending as it does a Georgian terrace that can only be described as modest in quality. Complaints that Murphy's proposed home "will claim the attention of everyone who ventures into Hart Street" seem to have come from people who have never actually done so: directly opposite the site is an uncompromisingly modern house built only a few years ago by Zone Architects and which itself has won many plaudits for its contribution to the quality of this part of the New Town. Perhaps it's just Richard himself that New Town worthies object to?


Show me the money
When Ravenscraig steelworks opened in 1957, it was part of a nationalised industry still buttressed by post-war demand for its product. The country's competitive edge in industries such as shipbuilding was in steep decline, however, and both Conservative and Labour governments found themselves pouring prodigious amounts of public money into maintaining the plant before John Major's administration finally pulled the plug on its operations in 1992. In the 16 years since, many plans have been announced for the redevelopment of the moonscape left after the cooling towers came down. Few of the proposals have resulted in any visible transformation of this vast area other than an expensive spaghetti of new roads intended to service future projects. With exquisite timing, the BRE, hand-in-hand with Ravenscraig Ltd, the company set up to redevelop the former steelworks site, has now stepped into this desert with the intention of building full-scale demonstration versions of affordable and environmentally-friendly homes. The idea is for companies to show off their respective technologies in prototype houses on the site. Given the sudden and potentially lengthy decline of the housing market, it will be interesting to see how many of the 100 companies who attended the initial expression of interest event ultimately take part in this initiative. The real question, however, must be "why here"? Companies that want to show off their products tend to use trade shows or other events that guarantee them potential customers. Had the proposal been part of the new showground being planned to replace Ingliston, for example, a year-round programme of events would have delivered a regular audience for all involved. As it is, considerable sums will be required to attract visitors to the inauspicious landscape between Motherwell and Wishaw.


Research and Prosper
Congratulations to architect Andrew Stoane, not only for securing funds from the Edinburgh Pre-Incubator scheme (EPIS) and the Edinburgh Technology Fund to support the launch of his company 'Anabo', but also for getting his concept reported in the business section of a Sunday newspaper. Usually, if architecture is reported at all in Scottish newspapers, it is in the news section or, occasionally, the property supplements. This time, however, Stoane's idea to tackle the shortage of affordable homes through a "future urban living" house building system has captured the attention of Scotland on Sunday's business section, exactly the part of the newspaper it needs to be in if the project is to gain further support. Time will tell whether or not the plan to offer funding, sites and kit houses configured to buyers requirements via Anabo's website will prosper, but with plans to have a prototype house constructed in Edinburgh by this Autumn, the concept is likely to generate further positive publicity and potential customers. BRE please note: if you want to effect change in the world of property, location is everything.


Practice promotion
A different approach to public relations appeared in the Scotsman this week when John McAslan turned his formidable marketing skills towards this side of the border. Two full pages of positive reportage on his work and approach to architecture with no mention whatsoever of his new Edinburgh office. Anyone who knows McAslan will be unsurprised by his ability to generate good press - once on his mailing list, regular reminders of the practice's existence and current projects appear in the post, all with a commendable humility that effectively deflects the kind of criticism other publicity-conscious architects seem to attract like magnets. Expect to see regular features and other subtle promotion of the practice once the Edinburgh office is fully established - indeed, if McAslan's track record to date is anything to go by, nothing less than an object lesson in how to market a new office might be anticipated. This is surely no bad thing: despite the crowded nature of the Scottish architectural marketplace, raising the public relations bar can only be to the benefit of the profession insofar as it forces others to become more sophisticated in the ways they present themselves to public view.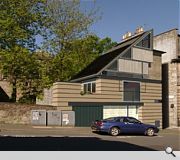 Murphy's new house
Back to July 2008