Landmark Glasgow college buildings set for new lease of life
July 26 2017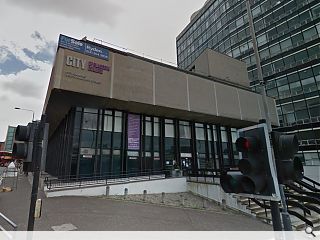 Two landmark further education buildings, disused since the formation of
City of Glasgow College
, are to be brought back into productive use through conversion to hotel and student accommodation by Study Inn and Sheppard Robson Architects.
This work will see The College of Building and Printing, now rebranded as The Metropolitan Tower, transformed into a 640-bed hotel with 20,000sq/ft of conference space and ancillary retail through conversion of existing floorplates and construction of a linked building fronting Cathedral Street following partial demolition of the podium.
It will be joined by 400 serviced student apartments inserted into the neighboring Charles Oakley Building which will also be augmented by a new build neighbor on parkland to the rear.
The £100m twin scheme has been conceived by the Midlands-based Study Inn Group which specializes in the 'hotel-style' operation of student accommodation and who have pledged to deliver new open space, pedestrian connections and a livelier street scene.
Study Inn director Kieran Leahy commented: "We are delighted that our first Scottish project is in Glasgow and gives us the opportunity to work with these two fantastic landmark properties. We know that tourism, commerce and education are all vital elements of the city's economy and these plans will make a positive contribution to all those sectors."
"These projects would not work in every City, but Glasgow has the special combination of characteristics which make it attractive and we are very pleased to have the opportunity to make this significant investment for the Study Inn Group.
Study Inn are to give the public a first taste of their intent this Saturday by way of an exhibition within the foyer of the Metropolitan Tower between 10:30 and 16:00 in advance of a formal planning application by year's end.
Should permission be forthcoming both sites are expected to open in phases through to 2019.
Back to July 2017