Backers sought for Aberdeen student build
July 25 2017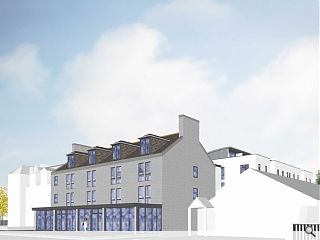 Backers are being sought to lend their financial clout to a student accommodation build close to Aberdeen University for which
planning permission was approved in March
.
Designed by CAG the
King Street
development would provide space for 100 students, a gym, lounge, cinema, shop and garden with a view to accepting a first intake of tenants for the 2018/19 academic year.
The approved scheme calls for a traditional in style granite and slate building to front King Street above a glazed shopfront to gain from passing trade on the street below. A separate mews building to the rear would turn its gable to the street to allow the front façade to catch the sun.
In a statement the architects said: "Once at pavement level the rear block cannot be seen except for meeting glances between buildings. From King Street the front block fits well within the streetscape as a simple granite and slate addition, rhythm of windows and dormers in step, with only the crisp detailing and new stone identifying the block and modern. The glazed frontage signifies the commercial element, but does not overpower the whole."
The car park plot was purchased by West Coast Estates for development in April 2010.
Back to July 2017