Kettle Collective open up on Clyde 'Leaf' bridge
July 20 2017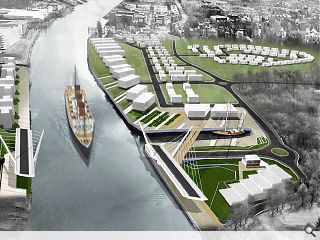 Kettle Collective have swung into action with plans to span the River Clyde between Renfrew and Yoker with a dramatic opening road bridge – the most dramatic element of the
£90.7m Clyde waterfront & Renfrew Riverside project
.
Lead architect Tony Kettle has taken the helm of the industrial design, which will open up 83 hectares of developable land on both banks of the river for development, conceiving of a twin-leaf design employing a cable stay system which is capable of opening to allow passage of river traffic.
To pull off this feat both 'leaves' are capable of opening and closing horizontally, meeting at a 30 degree joint below inclined masts which will dance in a turning motion when in operation.
Discussions are ongoing about whether to add a viewing platform and visitor attraction to make the bridge a destination in its own right when it opens to traffic sometime in 2020.
Kettle remarked: "The design is inspired by the shipbuilding story of the Clyde," said Kettle. "We sourced historical photos and maps which show dry docks cut into the embankments and there was the movement of the cranes, turning in beautiful circular motions to construct the ships.
"Its design is packed with drama and dynamism, creating a visual spectacle which we believe will draw people to come and see it, but there is no compromise on the functionality. The aesthetics accentuate the functional aspects to give the bridge an expressiveness and elegance."
One of few architects who can lay claim to building genuinely moving architecture, having led delivery of the 1,200 tonne rotating Falkirk Wheel, Kettle has also paid moving tribute to the work of cancer charity 'It's Good to Give' with
Ripple Retreat
.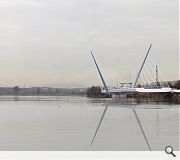 Extensive landscaping will accompany the bridge on both banks of the river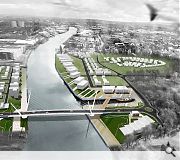 Road access will not come at the expense of river traffic
Back to July 2017