Greenock crane trio demolished in weekend blowdown
July 17 2017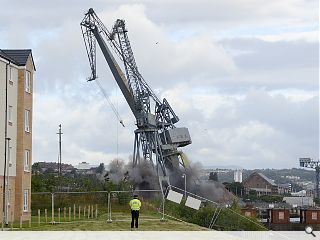 Three landmark dockyard cranes in Inverclyde have been brought down by a controlled explosion on Sunday morning by Technical Demolition Services.
Around 20 homes at Inchgreen were evacuated to allow the blowdown to proceed safely after port owners Peel took the decision that the disused structures were no longer fit for purpose.
Built 50 years ago to service the adjacent dock the cranes' demise reflects that of the wider shipbuilding industry on the Clyde which is now just a shadow of its former glory.
Instead the Inchgreen site will be put to use as a renewable energy hub under the Glasgow and Clyde Valley City Deal initiative with work expected to get underway by January 2021.
Imagery by Scottish Photography Productions
Back to July 2017