Illuminating vision for Inverness Museum
July 11 2017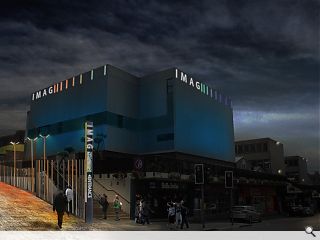 The Highland Council, together with Threesixty Architecture and Lightfolio, are proposing to reinvigorate the townscape around Inverness Museum & Art Gallery (IMAG) with a series of public realm, signage and lighting enhancements.
Vertical lighting and new surfaces will be used at the existing cultural building to improve accessibility and wayfinding to better integrate the old town with the castle and River Ness. This work will include a rationalization of signage on the current building,
eschewing an earlier vision to overclad the property in gold anodized aluminium
.
In a statement the architects wrote: "The illuminated fins and street works will create a unifying language which defines wayfinding over a large site, screen unsightly zones, and make the area safe, vibrant, and accessible to pedestrians. Through the installation of the illuminated fins, attention will be drawn away from the IMAG building and towards the streetscape, river, and castle. The lighting will be changeable and interactive, responding to specific events and festivals within the Highland capital. "
A future phase of work would establish a dedicated pedestrian route from IMAG to the historic Crown area of the city.
Back to July 2017