Morgan Sindall & Keppie to deliver anchor Ayr Riverside block
July 3 2017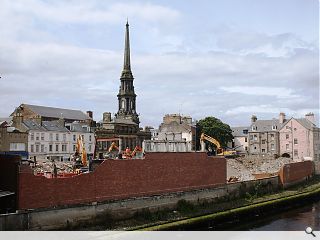 South Ayrshire Council has appointed Morgan Sindall and Keppie Design to deliver an anchor office block at
Ayr Riverside
as it seeks to kickstart regeneration of the town centre.
A masterplan for the ambitious project was submitted by Ayr Renaissance for the riverfront build last year, encompassing a tranche of land from the river to the High Street, offering a mix of office space, retail, cafes and public spaces.
Councillor Peter Henderson, portfolio holder for resources and performance, commented: "With the contractor and design team now in place we can start to bring together concrete plans to breathe new life into this landmark project.
"Work on site is already making a real difference to the local landscape with the old buildings on High Street now largely demolished, revealing the true scale of the project that will, in time, transform an historic area of Ayr's town centre.
"The Council block is the anchor development for the wider plan, and I look forward to seeing further progress in the coming months as construction work gets underway."
Demolition work is presently ongoing allowing an archaeological dig to take place on-site prior to a construction start being made by spring 2018.
Back to July 2017