RGU architecture students present bypass proposals
July 3 2017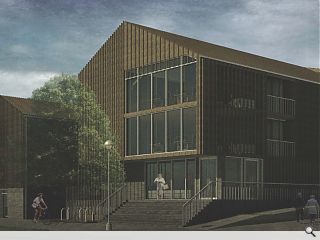 Robert Gordon University Architecture students have presented ideas for the development of land made accessible by construction of the Aberdeen Western Peripheral Route; including ideas for a children's home tree house, sports centre and co-operative housing for researchers.
Intended to serve as the antithesis of the developer-led cul-de-sac and retail park which typifies such development pupils branched out in different directions, including Ross Robinson who proposed elevating a children's home off the ground using a 'twig-like' arrangement of columns.
Course leader David Vila Domini remarked: "The project is a way of exploring what might be possible for this site between Milltimber and the bypass by taking into account a holistic approach to the city, as opposed to the usual piecemeal developments which spring up around bypass routes.
"Each of the students has proposed a development led by functions which are suited to a site on the periphery of a city. The benefit of having a more coherent approach to these sorts of locations is that often they connect to the city in a different, more permeable way, rather than just building more housing or retail parks which simply serves to push more and more cars on to the main arterial roads."
Fellow student Mark Watson proposed an intergenerational housing and social facilities to bridge a growing age divide.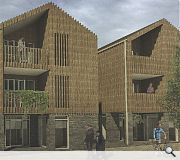 Mixed format housing couild bring generations together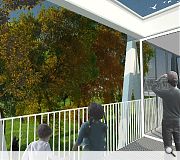 Ross Robinson has elevated this children's home to create parkland below
Back to July 2017