Bonnington supported living project breaks cover
June 26 2017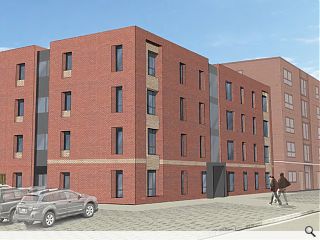 Susan Stephen Architects have brought forward plans to build
24 supported living apartments
at West Bowling Green Street, Edinburgh, on behalf of HB Villages.
Situated off the Water of Leith in the
Bonnington area of the city
the scheme will improve connections to the Millenium Walkway, establishing a continuous route along the river bank overlooked by a residents garden.
The architecture of the block takes its cue from the industrial character of the area with a four-storey mass, broken up by façade setbacks and continuous vertical glazing to denote access cores.
In their design statement the architects wrote: "Materials which would complement and enhance the surrounding area were considered in the design. A red facing brick was chosen to further strengthen the reference to industrial, warehouse and tenemental architecture.
"The use of a lighter coloured brick and grey panels at corridors and the entrance breaks up the formality of the facade. The proportions of the openings and grey cladding panels create a vertical emphasis to the facade."
Public realm improvements will include porous paving to encourage rainwater filtration.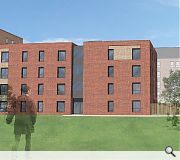 The former industrial area is rapidly adopting a residential character
Back to June 2017