Seven sweep Edinburgh's Ross Pavilion shortlist
June 20 2017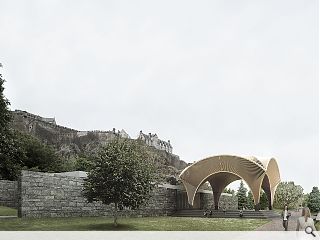 Seven competing designs have been shortlisted
from 125 entrants to revitalize Edinburgh's Ross Pavilion, giving the public the chance to get a feel for how the new pavilion and a reimagined West Princes Street Gardens might look.
Released by competition organisers Malcolm Reading Consultants they include a scheme led by
Adjaye Associates
, with Morgan McDonnell, BuroHappold Engineering, Plan A Consultants, JLL, Turley, Arup, Sandy Brown, Charcoalblue, AOC Archaeology, Studio LR, FMDC, Interserve and Thomas & Adamson.
Adjaye's solution takes the form of a 'garden temple' dubbed a sculptural pleasure palace within which people may indulge in performances and community events with its stone clad features embedded within the landscape.
They are joined by
Bjarke Ingels Group
, incorporating JM Architects, WSP Parsons Brinckerhoff, GROSS.MAX., Charcoalblue, Speirs + Major, JLL, Alan Baxter and People Friendly, who propose to build a transparent 'undulating canopy' to allow uninterrupted views of the castle from the gardens while also framing views.
Next up is
Flanagan Lawrence
who are collaborating with Gillespies, Expedition Engineering, JLL, Arup and Alan Baxter who have penned 'sinuous landforms' in the shape of a performance space and visitor centre which make the gardens a more connected space.
Page \ Park Architects, West 8 Landscape Architects and BuroHappold Engineering
, alongside Charcoalblue and Muir Smith Evans, have composed a 'grotto fed by springs' in a classical garden tradition, supplying a space for assembly, marriage, song and dance at the foot of Edinburgh Castle's rocky ramparts.
Also in contention are
Reiulf Ramstad Arkitekter
who, in collaboration with GROSS.MAX., AECOM, Charcoalblue, Groves-Raines Architects and Forbes Massie Studio, have conceived of a 'simple but bold design' complete with water terracing whuch reflects the long drained Nor Loch.
In with a chance also are
wHY, GRAS, Groves-Raines Architects, Arup, Studio Yann Kersalé, O Street, Stuco, Creative Concern, Noel Kingsbury, Atelier Ten and Lawrence Barth
, a sprawling team which can also count Alan Cumming, Aaron Hicklin, Beatrice Colin, Peter Ross, Alison Watson and Adrian Turpin among their extensive number.
Their 'butterfly' pavilion takes its inspiration from symmetry and organic forms to assume the appearance of a 'highly decorated tent' sitting within the landscape.
Last but not least stands
William Matthews Associates and Sou Fujimoto Architects
with BuroHappold Engineering, GROSS.MAX., Purcell, Scott Hobbs Planning and Filippo Bolognese who have crafted a 'place for people' by building on the concept of stone circles and the circular form of the original bandstand with distinctive overlapping rings.
Each concept will be on show at Edinburgh's City Art Centre from 21 June through to 30 July.
Back to June 2017