Dundee Waterfront proposals approved subject to conditions
June 20 2017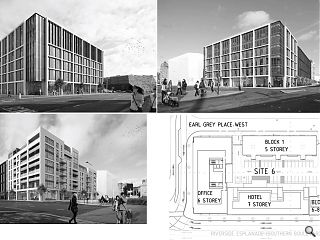 Dundee planners have recommended that planning permission be granted to a development of four mixed us blocks on the city's waterfront containing a hotel, offices, homes and associated retail units.
Fronting Riverside Esplanade to the south and Earl Grey Place to the north the Cooper Cromar designed buildings will be arrayed around a shared parking courtyard, drawing criticism from some of a diminution of the emerging V&A Museum, lack of street interaction and
an absence of character
.
In dismissing these concerns the committee did push for some tweaks however, stating: "The initial submission gave rise to some concerns associated with the areas of blank wall to the north elevation of the west office block. Understandably the plant based function located within this section of frontage does not lend itself to active frontages.
"The architect has indicated a willingness to provide amended plans to alleviate these concerns which continue the architectural language/materials of the upper floors down to ground level. This matter will be the subject of a planning condition and with this in mind, the elevation shall be improved."
Other conditions include the creation of a public art project, details of vehicle access points, street lighting alterations and CCTV placement.
Back to June 2017