Revised Inverness Justice Centre design brought forward
June 16 2017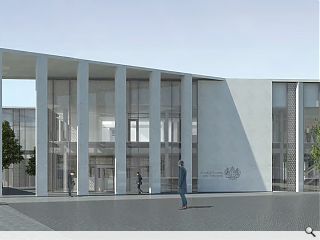 The Scottish Courts and Tribunals Service have brought forward revised plans for a new
Inverness Custice Centre
, building upon the initial concept conceived by Reiach & Hall.
The updated design rationalizes accommodation and provides a new public space as well as improving access by car and will be placed on public display in the magnus Room of the Royal Highland Hotel between 15:00 and 19:00 on 22 June.
SCTS chief executive Eric McQueen said: "Rather than simply a replacement sheriff court building, the justice centre will play a pivotal role in changing victims', witnesses' and offenders' experience of the justice system, while providing high quality secure criminal courts, and flexible accommodation for our civil courts and tribunal users."
Should the tweaked design find favour with Highland planners Robertson Construction could move on-site by the end of the year, completing the main body of works by 2019.
Back to June 2017