Perth City Hall design concepts go on show
June 12 2017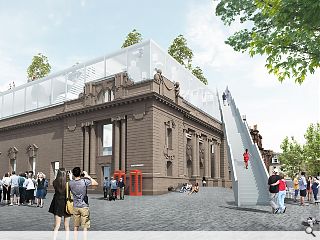 Perth & Kinross Council are exhibiting
five shortlisted designs for the redevelopment of Perth City Hall
, enabling the public to have their say on initial concept designs.
Austin-Smith:Lord with MVRDV, Hoskins, LDN, Mecanoo and Richard Murphy are all bidding for the cultural attraction, which is set to become a centerpiece of the its 2021 UK City of Culture bid.
When complete the revitalized hall will house interactive displays, learning facilities and a meeting space in the centre of town.
Austin-Smith:Lord with MVRDV's approach will see a dramatic staircase installed to allow those up for the climb to ascend all the way to a dramatic new rooftop garden from St John's Square. Hoskins meanwhile propose to improve access with a new raised plinth with existing entrances opened up and circulation rationalized, culminating in a new temporary exhibition space in the roof.
For their part LDN plan to install a series of exhibition plinths along the Hall's south side, outlining the edge of a raised plinth reserved for cafes. A '21st century entrance' will also be formed facing St John's Kirk taking the form of a full-height glazed wall.
Mecanoo have opted for a more understated approach with retention of the existing roofscape, although existing solid doors will be replaced with glazed alternatives.
Last but not least Richard Murphy Architects aim to remove the central portion of the north elevation in its entirety, save for the cornice and parapet which will rest on a new steel beam, in order to insert a new glass wall. The ground floor would also be lowered to sit flush with surrounding streets.
All five designs will be on display until 24 June at Perth Civic Hall from 10:00 until 19:00 on weekdays and 16:00 on weekends.
Back to June 2017