Timber townhouse terrace takes off in Liberton
May 17 2017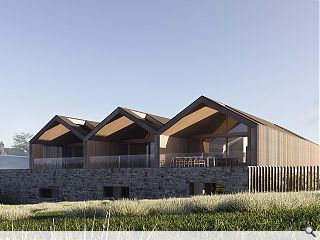 Glencairn Properties and LBA Architects have secured a prized planning consent to deliver three townhouses overlooking Edinburgh's Royal Observatory and Liberton Tower at Liberton Brae.
The four-bedroom properties will take the place of a disused agricultural barn within a complex of buildings that include a B-listed 19th century farmhouse, converted in an earlier phase of work.
Taking this barn as its template the intervention sports a standing seam metal roof, vertical timber cladding and a solid base formed from reclaimed stone. Internally each home is arranged around a fully glazed external void courtyard.
David Hill, design director for LBA, said: "The location and design of the townhouses set it apart, it's a location that feels rural yet the properties benefit from a highly contemporary design. You're minutes from the Pentlands, can access the Hermitage and benefit from unparalleled views across the iconic Edinburgh skyline. The development will really come alive in the early evening with the glow of light from the internal spaces through the 'hit & miss' timber cladding and with the backdrop of the observatory and Liberton Tower in the low-level evening sun, it's going to be spectacular."
Daryl Teague, director of Glencairn Properties, added: "The introduction of materials such as traditional stone, glass and timber, and highly original aspects such as the internal glass bridge and courtyard area help to maximise natural light making the most of the development's location."
Feature details will include vaulted ceilings, floor-to-ceiling glazing, private terrace and a feature glass floor serving as a 'bridge' across the courtyard void.
Back to May 2017