Billy Connolly to be immortalized in trio of Glasgow murals
May 18 2017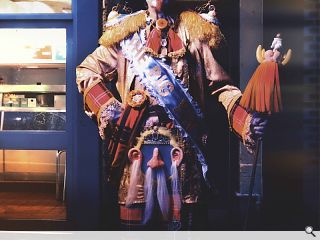 Singular comedian Billy Connolly is in line for a trio of mural tributes as part of a 'larger than life' recognition of the 'Big Yin' by BBC Scotland in conjunction with Glasgow City Council and Glasgow Life.
Designed to embody the comedian within the city's architecture the project will see three original works commissioned from John Byrne, Jack Vettriano and Rachel Maclean grace gables around the city centre - all of them rising to at least 50ft in height.
On Osborne Street Connolly will be shown as he is now by Byrne while a wind-blown depiction of the star from his groundbreaking World Tour of Scotland series in 1994 will appear on Dixon Street from the hand of Vettriano. On the Gallowgate meanwhile MacLean will display a digital print of the comedian sporting distinctive motifs drawn from throughout his career.
Connolly remarked: ""I'm probably more famous for being a Glaswegian than anything else I've actually done. It's been great to have been home to take part in this and a real privilege to be part of these artists' work."
Each mural will be put in place this month in conjunction with the City centre Mural Trail project ahead of the transmission of Billy Connolly: Portrait of a Lifetime in June.
Back to May 2017