Halliday Fraser Munro serve up drive-by coffee to Dundonians
April 21 2017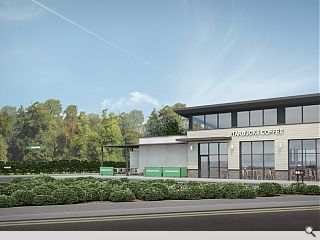 Dundee City Council have granted planning consent to a
drive-through Starbucks coffee outlet and separate restaurant
on land to the east of the Discovery Centre, subject to remedial decontamination works being carried out.
Designed by Halliday Fraser Munro on behalf of Kilmac the £4.5m venture will be located on Fulton Road to serve passing caffeine addicts.
Kilmac Group director Derek Ross remarked: "As a local company we acknowledge the need for the council to protect land earmarked for industrial use but this landlocked site had has been vacant since 1968 and successive marketing attempts over the last 15 years have proved unsuccessful.
"We will be progressing with building warrant and are pencilling-in a start on the Starbucks site in late summer, with an opening envisaged early in 2018."
Back to April 2017