University of Glasgow 'black box' data centre goes in for planning
April 21 2017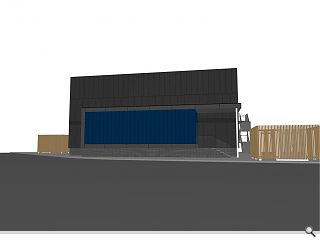 The University of Glasgow is pushing forward plans to erect a two-storey data centre to designs by HLM architects and RankinFraser landscape architects.
Required to upgrade the university's IT infrastructure the
Kelvin Data Centre
will occupy a constricted site off University Gardens Lane. Clad in dark rainscreen cladding above a brick plinth the 'black box' will be accessed by a single storey entrance annex. A separate generator will be screened by timber batons.
In their design statement HLM observed: "Due to the site constraints and design limi¬tations, the data centre essentially becomes nothing more than a "black box" for storing data. The design does not attempt to disguise this fact, but tries to improve what would otherwise be a blank box.
"The 'black box' is articulated to some degree through the diminishing arrangement of the vertical cladding panels, and the addition of a con¬tinuous horizontal louvre which wraps around the building, and which is required as part of the mechanical system. The cladding treatment and the brick base are intended to provide some subtle variation within the blank façade of the data halls."
The University of Glasgow is currently progressing a £1bn campus masterplan.
Back to April 2017