Highland farmhouse given fresh lease of life
March 7 2017
Moxon Architects have revitalized a derelict farmhouse in the Cairngorms National Park through a sensitive restoration of the 18-century farmhouse to form contemporary family home.
Coldrach, located near Crathie, has been given a new build extension that evokes the ad-hoc tin-shed look typical of farm buildings, echoing the simplicity of traditional 'but and ben' two-room cottages common to the area.
In a statement Moxon wrote: "The extension is nestled slightly below ground level, giving it a natural relationship with the surrounding landscape. Replicating the volume of the existing farmhouse, the 120sqm addition is connected to the original by a low-slung link volume with a fully planted meadow roof. The new is connected to the old by a frameless band of glass, with the remainder of the addition clad in untreated European larch and finished in red-oxide corrugated metal sheets.
"The sinusoidal profile of the sheeting is used in horizontal and vertical directions to distinguish between fixed and moving panels - fifty percent of the courtyard wall area can be opened up. The result aims to not only reflect the austerity of the existing granite architecture but also continue the use of vernacular materials – honest and elementary."
The main granite farmhouse has itself been restored to form a 'U-plan' of accommodation in conjunction with the new build element; sheltering an external space between both elements.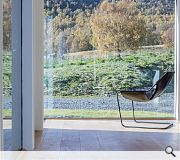 A frameless band of glass connects new and old elements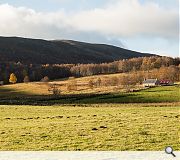 The new build element is finished with untreated European larch and finished in red-oxide corrugated metal sheets
Back to March 2017