'Harmful' Sauchiehall Street student flats recommended for approval
March 6 2017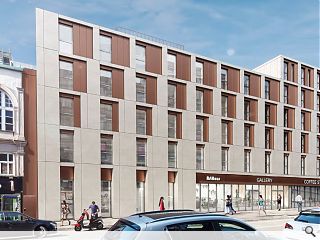 A controversial bid to erect a
student housing development to the immediate south of the Glasgow School of Art looks
set to go-ahead after Haus Architects lopped a floor off to placate the school which had voiced objections on the grounds of overdevelopment and 'harmful impact' on Mackintosh's masterpiece.
Revised proposals show altered massing designed to increase visibility of the Mack's southern gable, increasing the amount of light able to reach the school in the process.
Explaining the changes Haus wrote: "To increase the light and visibility we have removed the top floor of the proposal, which is now seven storeys of student residential above the ground floor retail. To strengthen the horizontal datum along Sauchiehall Street we have removed the step on the western side and levelled out the fourth floor to be consistent."
A meeting of the council's planning committee is scheduled for tomorrow to decide the projects fate but planners have already indicated that the proposal ought to be given the green light.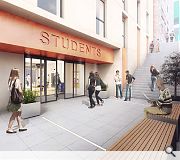 Public realm along Dalhousie Street will be activated through introduction of a commercial unity and external staircase stepping up to the school of art
The revised application will include 181 studio flats
Back to March 2017