University of Edinburgh secure approval for sub-atomic research centre
February 20 2017
City of Edinburgh Council have granted permission to the University of Edinburgh to press ahead with an
Institute for Regeneration and Repair at Edinburgh BioQuarter
.
Specialising in research and imaging at sub-atomic scales the new institute is intended to attract global talent to the university while acting as a gateway building to the campus from Edinburgh Royal Infirmary along Exhibition Walk.
The centre has been designed by Stantec to offer scientists and students access to seminar and exhibition spaces, a café and courtyard as well as a dedicated in lab double-height 'collaboration zone'.
Formed from composite aluminium rainscreen cladding with feature fins the external appearance of the centre has been conceived to set the wider 'tone' for the Bio-Quarter, as Stantec observed: "In response to the various conditions which surround the IRR as well as the significant level change from North to South, the architectural language establishes continuity on all sides in providing legibility and order through the articulation of the upper levels as a crisp glass volume, with insets of colour.
"The ground and first floors are set back slightly to clearly delineate the 'piano noble' of Science sitting above, and the line of structural columns has been expressed in front of the glazing line to further reinforce the separation of the two volumes."
When complete the IRR will house 250 researchers and support staff with the design team aiming for a net zero energy and water consumption.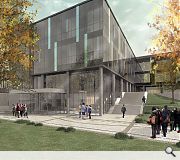 landscaping work must be initiated within six months of occupation as a condition of approval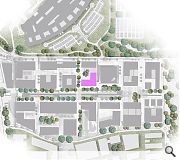 The IRR occupies a key plot within the bio-Quarter masterplan
Back to February 2017