Drum Property up materials spec at consented Finnieston build
February 16 2017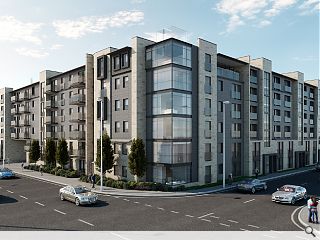 Drum Property Group have tabled
revised proposals for 189 flats at Minerva Street, Finnieston
, after deciding that the design and materials specified in a previously consented scheme by Progressive Residential could be 'improved and bettered to the overall benefit of the scheme'.
Drum Property initiated a review after purchasing Progressive last summer, instructing DarntonB3 Architectture to up the material-spec and design ambition displayed in an
earlier design iteration
.
In practice this will see natural limestone and ceramic cladding used in place of the approved buff brick and aluminium rainscreen, with steel and glass balconies added to the exterior elevations.
A submission letter prepared by Zander Planning read: "The applicants took ownership of the site in summer 2016 and immediately instructed an extensive design review of the proposal as consented. The new owners considered that the design, appearance and materials could be improved and bettered to the overall benefit of the scheme.
"The design team have been engaged in this exercise over the last six months that included the appointment of 3rd architects to independently review the proposals."
As before the scheme will effectively enclose an urban block on either side of a twin railway tunnels below with car parking above.
Back to February 2017