Yoker hits new heights with Scotland's tallest timber structure
February 16 2017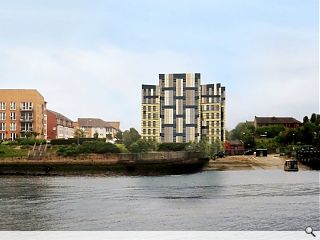 Off-site construction specialists CCG have published plans for an innovative residential build in Yoker, Glasgow, combining use of cross laminated timber (CLT) and an acrylic brick-slip façade to create what will be the tallest timber structure in Scotland.
Situated on
Ellerslie Road
the Mast Architects designed development of 42 flats for Sanctuary will reach up to seven storeys, affording tenants expansive views over the River Clyde.
Selected as a sustainable alternative to steel and concrete CLT first emerged on the market in 2003, reaching its peak in 2009 with Murray Grove, London, which at nine storeys just pips Yoker to UK top billing.
CCG chairman and CEO Alastair Wylie, commented: "We are constantly innovating and whilst we do not manufacture CLT, we have used it as an extension of our OSM product to further enhance our approach to sustainable construction.
"This project is not only ground-breaking for CCG in terms of the CLT construction method but it also seeks to address some of the industry challenges in terms of resource demand; both the labour skills requirement and also the material supply chain."
The project is expected to kick-off in March and will complete in autumn 2017.
The flats will form a new landmark by the Renfrew Ferry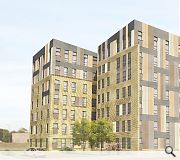 The homes will rise on vacant ground behind Keppie's Yoker health centre
Back to February 2017