RIAS call for urgent safety checks on public buildings built post-2000
February 14 2017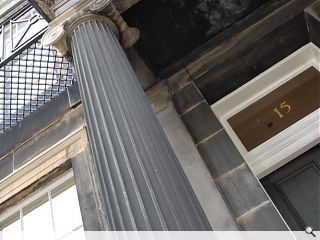 The Royal Incorporation of Architects in Scotland (RIAS) has published its response to a scandal surrounding lapses in building standards following
collapse of a masonry wall at Oxgangs Primary School last year
with a written submission calling for UK public bodies to review the build quality of all buildings constructed after the year 2000.
An inquiry led by independent expert professor John Cole in the wake of the Oxgangs incident raised concerns for a further 17 schools in Edinburgh but the RIAS believes this may be the tip of the iceberg, with calls to extend checks to all newly built public buildings.
Describing its intervention as an 'urgent call to action', the RIAS argues that it 'would be naïve' to assume that other properties built from 2000 up to and including the present day, which may also have lacked a 'properly resourced and structured scrutiny of the building work'.
RIAS president Willie Watt, commented: "When major inquiry reports are published there is a tendency for everyone to breathe a sigh of relief, mutter "well that's that dealt with" and move on. That should not be the case with this, extremely well researched and deeply concerning report. The message is simple and the responsibility of all commissioning authorities is clear.
"An early process of inspection by appropriately qualified experts should proceed as urgently as the various public commissioning authorities, local, health and governmental, can muster the skilled individuals who can do this work.
"The Royal Incorporation's own submission to the Inquiry agreed strongly that without diligent and careful checking at every stage of the building process problems are almost inevitable. In this instance it was fortunate that nobody was injured, or killed."
RIAS secretary, Neil Baxter, added: "This report demands a response - and don't underestimate it - that response may save lives!"
The Scottish government has written to local authorities to flag recommendations contained within the Cole Report.
Back to February 2017