Reiach & Hall go for student gold with bronze build
February 14 2017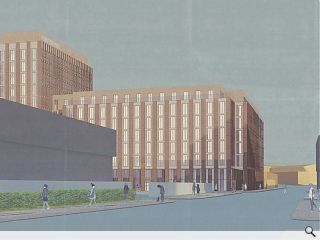 Reiach & Hall Architects and Raglan Development have advanced proposals for what is described as being a
'new model' of student housing on Glasgow's Port Dundas Road
, offering tenants a greater range of social and amenity space than is typically the case for standard builds.
Focussed on a ground floor social space the scheme includes a foyer, café, gym, lounge and games hall which will spill over into a courtyard garden and surrounding streets.
Stretching across 18,100sq/m of gross internal floor area the build will include 444 cluster flats alongside 156 studio rooms, all of which will be made available for short-term let during the quieter summer months.
Fleshing out their approach the architects observed: "The external massing and expression comes from an analysis of the opportunities the site contains to make a place of delight. We have looked beyond the current fashion for willful shape-making and random pattern. Our proposals are intended to create a place of enduring quality, based on an understanding of the rich Glasgow tradition of rigorous and repetitive facades."
Clad in profiled and sculpted aluminium panels with a light bronze finish, specified for their low maintenance requirements and ability to provide ventilation through perforations.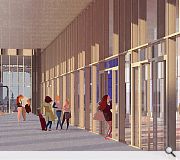 An emphasis is placed on social and amenity space such as this sheltered loggia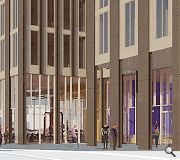 Glazed ground floor open spaces form a connection with the street
Back to February 2017