Gorgie Road office to residential conversion tabled
February 13 2017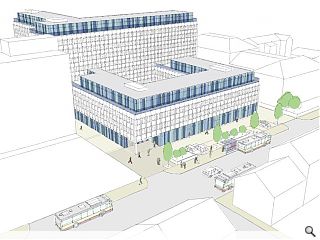 EMA Architecture and Design have brought forward proposals to convert a redundant office block off Edinburgh's Gorgie Road to provide new flats, together with an element of ground floor retail and leisure space.
Chesser House
sits approximately two miles west of the city centre, dominating the surrounding residential neighbourhood of three and four storey properties.
After dismissing the prospect of demolition the applicants, Spindlehawk, have elected to proceed with contemporary additions to the top of the north and south wings of the existing block to maximise views. At the base work will be undertaken to enhance the public realm with new ground floor uses.
Outlining the new elevational treatment EMA observed: "The incorporation of commercial uses at ground floor such as leisure and retail spaces will create opportunities to increase the glazing and frontage at street level. The creation of a more public open space on the Gorgie Road boundary will further improve this relationship.
"The simple contemporary architecture of these glazed facades is then replicated within all of the new contemporary additions and alterations at the ground floor entrance, at the 3rd floor of the southern wing and at the 8th floor of the main part of the building. The building already benefits from the hundreds of windows within the existing facade however the new large areas of glass will maximise the existing views."
Existing courtyards will be remodeled by Rankin Fraser to provide enhanced open space and an improved relationship with the Water of Leith.
The proposal follows plans to
erect new town houses further along Gorgie Road
.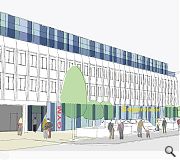 A penthouse extension will sit on top of the existing Chesser House
Back to February 2017