Organic table plans for Pagoda-style Dartmoor distillery
January 23 2017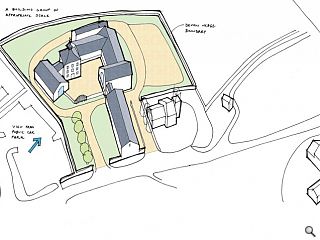 Organic Architects have tabled plans for what would be the
largest whisky distillery in Britain outside Scotland at Princetown, Dartmoor
.
The £4m plant is being backed by Princetown Distillers for the remote site owing to its high annual rainfall and low temperatures, ideal conditions for storing spirits for the three-year minimum period before it can legal.ly be classed as whisky.
Formed from natural granite rubble, white render the facility would sit beneath a pagoda-style roof on the site of a number of disused workshops.
Outlining this approach the architects observed: "The square plan is topped by an iconic pagoda roof which forms a new landmark feature. This style of roof form originally vented malting kilns and has come to typify distilleries around the world. The creation of an attractive pagoda roof is therefore an appropriate feature for this building typology.
"In urban design terms it is placed at the heart of the building grouping as a strong architectural feature."
Once fully operational the distillery would be capable of producing around 400,000 litres of pure alcohol a year and is expected to attract as many as 30,000 tourists to an on-site visitor centre every year.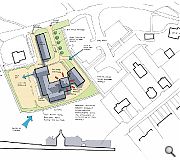 The distillery will double as a local tourist attraction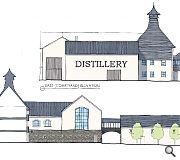 Whisky production has boomed to keep pace with consumer demand
Back to January 2017