National Theatre of Scotland pulls back the curtain at Speirs Locks
January 23 2017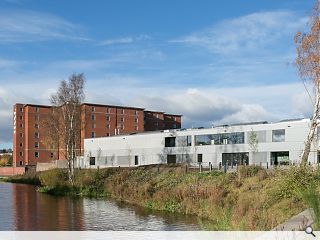 The National Theatre of Scotland has formally unveiled its brand new
headquarters at Speirs Locks, Glasgow
, on the banks of the Forth & Clyde canal.
Designed by Hoskins Architects the £6.5m project entailed remodelling an existing warehouse to create facilities for production, rehearsal and talent development – but no public performance space.
Rockvilla will bring the company together under one roof for the first time and includes a community suite, wardrobe, workshop, offices and technical store.
In a statement Hoskins Architects said: "The retention of the structural warehouse frame creates a typically factory-like form; a new biomass boiler enclosure adjacent being the only additional footprint on the site. The building is clad in sinusoidal metal, a material synonymous with the industrial aesthetic, appropriate for the vision of a 'creative factory' and in keeping with the history of the site. The elevation is raised above the banal by the careful arrangement of openings and cladding into four distinct bands, creating a calm, controlled façade. The use of a limited palette of materials internally (white walls and a polished concrete ground floor with an exposed steel structure, existing and new) continues the raw aesthetic while meeting the performance requirements of a modern theatre company.
"Visual connections – often by way of high-performance acoustic glazing – between the different departments, including the rehearsal spaces, is key to the design and bringing together a company who have never before been housed under the same roof."
In excess of
500 student beds
are planned for the Speirs Locks area as part of a wider masterplan.
Photography by Gillian Hayes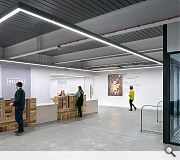 The facility unifies a number of formerly scattered departments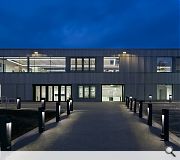 The new HQ is named after several local buildings including the former Rockvilla School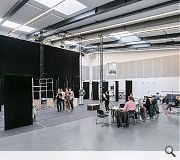 The warehouse frame has been re-clad in sinusoidal metal
Back to January 2017