Glasgow gasworks gives ground to 140 homes
January 12 2017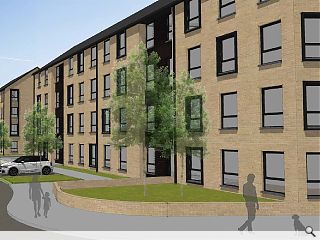 AS Homes have unveiled proposals for a residential development at the former
Maxwell Road gasworks in East Pollokshields
to deliver 140 affordable flats and houses.
George Buchanan Architects have taken the reins of the build which will occupy 8.3 acres of industrial land to the north east of the Victorian garden suburb.
Laid out as a series of homezones, courtyards and squares the development fronts Maxwell Road with a four storey flatted block to present an urban 'face' with a 'crank' at the principal entrance drawing traffic toward lower density homes to the interior.
In their design statement the architects said: "Active frontages are provided to all publicly accessible areas. These elevations have been designed with elements to enrich the frontage and create features of visual interest, such as a regular rhythm of openings, linked openings and brick detailing.
"A buff multi facing brick will be used throughout the development as the main material, tying all blocks and landscaping together. A darker, grey facing brick will be utilised in small, key locations such as recesses defining terraced units and at entrances to flatted blocks.
"Texture and richness is added via the use of brick ribbed detailing on key elevations."
Landscaped public open space will be offered throughout with each house given its own private back garden and flat residents sharing communal outdoor spaces.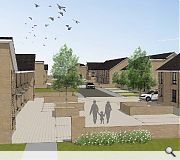 Facades will be given feature patterns and ribbed brickwork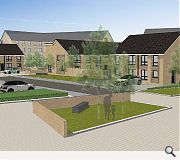 Lower density terraces and houses will sit beind a protective frontage
Back to January 2017