At risk Perth church to form new public space
December 6 2016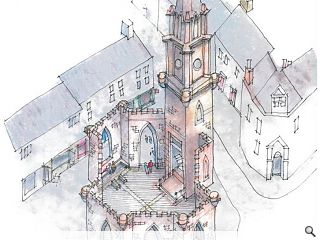 A crumbling B-listed Perth Church languishing on the Buildings at Risk Register is be turned into a new public space in the absence of any viable plans to put the structure to alternative use.
Occupying a prominent spot on the High Street the building has now been acquired by the council who will undertake to consolidate the walls whilst removing the roof and windows to form a walled outdoor space accessed by four newly inserted archways.
The resulting space would be made available for day-to-day use and as a venue for music, drama and other arts events.
Councillor Ian Miller, Leader of the Council, said: "St Paul's Church has long been an unsightly feature of Perth's High Street. A number of proposals have come forward over the years from private owners of how it could be brought into use, but none of these have become reality.
"Unfortunately it is clear that nobody else is coming up with a viable idea for its future. That is why it is so important that we consider a more 'out of the box' approach to St Paul's."
Wayne Hemingway, designer and technical advisor to the Perth City Development Board, commented: "St Paul's is a beautiful, evocative historic building surrounded by quirky, small, affordable shops and a hidden courtyard space. What an opportunity to uncover this underused part of the city and turn it into a real asset."
An adjoining spire would be fully repaired, confirming its future as a skyline landmark pending Perth's UK City of Culture 2021 bid.
Back to December 2016