Cuningar bridge opens to pedestrians and cyclists
December 1 2016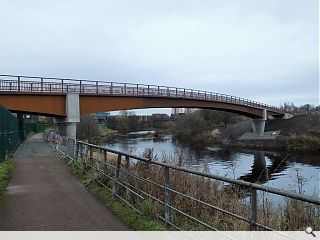 Clyde Gateway and the Forestry Commission have completed a new pedestrian and cycle bridge spanning the River Clyde connecting the Athlete's Village to
Cuningar Woodland Park
.
Forming one of two primary entrances to the park the link will enable easy access to the 15-hectare green space.
Welcoming the connection local resident Eileen Rae said: "I've watched it being built over the past year and been impressed in particular with how quickly it all came together after the piling operations were completed a few months back. I just happened to be walking past when the fences were being removed and thought I'd take a walk over.
"It's amazing to think that I've been the first pedestrian to walk on the bridge and just a minute or so later I was joined by two cyclists who came over from the park and the Rutherglen side. The bridge looks and feels fantastic and it is certainly a great addition to the area."
The bridge will open to the public in full from 4 December following a weekend 'Loop by Light' illumination event.
Back to December 2016