Construction starts on £3.5m museum collection centre
December 2 2016
National Museums Scotland have kick-started construction of a £3.5m collections centre in north Edinburgh which will provide an additional 1,000sq/m of specialist research and storage space.
The National Museums Collection Centre will is expected to begin operation in October 2017, providing enhanced facilities for the scientific study, conservation and research of over 12m historic items.
Specific services include a conservation science centre and improved accommodation for a variety of geological collections, textiles and artefacts in addition to space for staff and researchers.
Dr Gordon Rintoul, director of National Museums Scotland said: "This new development will greatly enhance its capacity and usage as a vibrant and active hub for research, interdisciplinary study, and specialist training, providing access to material and knowledge for researchers from around the world. It will also provide vital support for our public programmes, both in our museums and our wider national and international activities".
The project design team includes Hypostyle Architects, Ogilvie Construction, Ailsa TH project management and Thomson Gray Ltd Cost Consultants.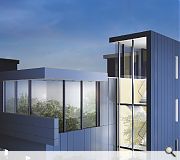 The collections centre will form a new hub for research, care and access
Back to December 2016