Paisley pod plan set to ferry passengers to Glasgow Airport
|
Send to friend
October 14 2016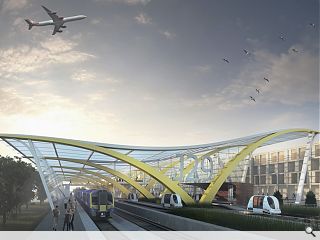 The holy grail of introducing a rail service to Glasgow Airport has taken a fresh twist with plans to introduce a personal rapid transit (PRT) system – one of two options currently being weighed up by Glasgow and Clyde Valley Cabinet after
plans for a heavy rail link were scrapped
.
Under two competing proposals for
City Deal funding
the route would be serviced either by a £144m tram/train option to Glasgow Central via Paisley Gilmour Street, which could reduce airport journey times to just over 16 minutes.
Alternatively, the £80m PRT system may get the nod, linking to a 'Glasgow International Railway Station' in four minutes it would take just 12 months to build. This would see a fleet of small automated pods shuttle between the two stops on custom-built lightweight guideways.
The idea has already received the backing of Junction 29. Landowner of a 40 acre site at the airport. Its MD, Paul Kelly, said: "The PRT option…would significantly ease congestion on the M8 corridor between the airport and the city centre. Our PRT solution is very similar to what is already in place at London Heathrow Terminal 5, which is very reliable and has high levels of customer satisfaction.
"Passengers would travel on the Glasgow Central – Gourock/Wemyss Bay line and disembark at a relocated Paisley St James station. They would then join the PRT system and four minutes later, arrive at the airport."
A final decision is expected to be made by December.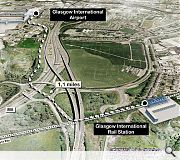 Paisley St James could be relocated to a new Glasgow International station under the pod plan
Back to October 2016