Latest Edinburgh student housing plan brought forward
|
Send to friend
September 23 2016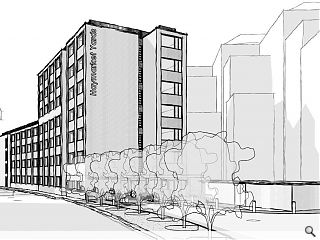 Plans to build yet another student residence in Edinburgh have surfaced with McLean Architects pushing ahead with a
seven storey scheme at Haymarket Yards
on behalf of Scape Homes and CGM holdings.
Finished with facing brick cladding and slate oak coloured panels the block will consist of 104 studio apartments together with its own gym, cinema, laundry and common rooms.
Writing in their design statement the architects observed: "The building mass is split into two sections – four storey low rise and a seven storey high rise section. The high rise section is positioned in line with the vista between Elgin House and Interpoint Building and the low rise is positioned to the South West in response to the low rise residential accommodation on Devon Place.
"The building plan is generated from a linear circulation spine running East to South West across the site. Communal areas and private studio apartments are located off this central core. The building hugs the Southern site boundary and kinks towards the South West corner."
The new building will be set within private landscaped grounds with planting and seating providing a place for socialising.
Back to September 2016