Stirling publishes draft city masterplan
September 22 2016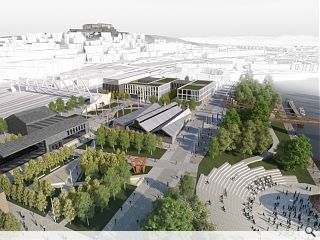 Stirling Council have published their draft city masterplan, drawn up in collaboration with Stallan Brand and Turner and Townsend, which outlines six key proposals to create a more business friendly environment with improved amenities for all. This includes establishment of a new digital district, business incubation space, a new harbour, regeneration of the Mercat Cross, riverfront improvements and a 'transformational' city park which aims to better embed the castle with the surrounding landscape.
Centrepiece of the proposals is a 60 hectare City Park on former hunting grounds to the west of the castle with a former royal garden known as the Kings Knot which will be retained as a key feature. Landscaping would extend an existing set of walks and open spaces around the castle down the volcanic mount top the city centre proper, a move which the council reckons could entice an additional 250,000 visitors to the area.
In their masterplan statement Stallan Brand wrote: "The landscape is the fundamental aspect which makes Stirling unique compared to Glasgow and Edinburgh. The surrounding hills are key to this but it is also the way in which the countryside extends right in to Stirling. The highland cows underneath the Castle are a perfect example of this."
Key also will be a push to better connect surrounding communities through promotion of an 'active travel network' comprising new road links, cycle tracks and footpaths.
Stirling is the latest city to bid for City Deal funding from the UK and Scottish government's, with the entire masterplan costed at £200m to deliver it will be unable to proceed without political backing at a national level.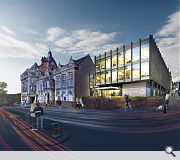 Former municipal buildings will be transformed into a digital hub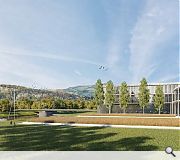 Stirling is seeking to bolster its business credentials through creation of incubator space for start-ups
Back to September 2016