'Old-style' Glenlivet Distillery road bridge carries first traffic
September 21 2016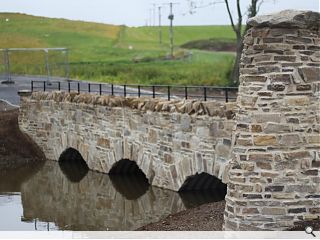 Robertson Civil Engineering have confirmed completion of a modern day 'pack horse' road bridge to improve connectivity after drinks manufacturer Chivas Brothers specified an 'old-style stone' look for the connection.
Designed by Norr and Blyth and Blyth engineers the three
span bridge links the Dalmunach Distillery to a new visitor centre
and has been built in the style of a pack horse bridge, used in Glenlivet branding.
Tony Fry, managing director of Robertson Civil Engineering commented: "The fact that Chivas Brothers wanted something that was 'old style stone' has made this particular bridge so unique. It's not often we're asked to do bridges like this one, but when we are, it is a real privilege.
"Their desire to tie the structure into their brand signifier has made it a very interesting project to work on, and the end result is sure to be admired by visitors to the distillery for many years to come."
Back to September 2016