£5.5m Govanhill Housing Association project moves on-site
September 12 2016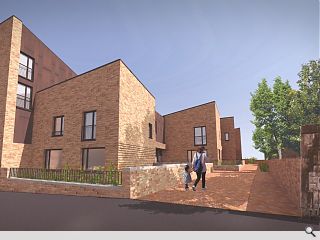 Govanhill Housing Association has moved on-site with a
£5.5m development of 42 affordable homes
on the corner of Victoria and Butterbiggins Road, Glasgow.
Rising to seven storeys at its highest point the prominent Collective Architecture designed scheme will bring back into productive use a prominent plot of derelict land and complements ongoing work to rehabilitate substandard accommodation in the area.
Govanhill's vice chairperson, Annie Macfarlane, said, "This development, which is part of our overall regeneration strategy for Govanhill, will provide much-needed social housing for people in the community. It involves significant investment in a key site, which has been vacant for a considerable time.
"Other initiatives to regenerate the area and provide affordable homes include the pilot South-West Govanhill Property Acquisition and Repair Programme, which met its two-year target to buy around 80 properties after just one year.
"The aim of that programme, which complements our work on new developments, is to buy, repair, let and then manage flats in four tenement blocks that include some of Govanhill's poorest quality housing."
Completion is scheduled for January 2018.
Back to September 2016