Cumbernauld electricity testing centre powers up
|
Send to friend
September 2 2016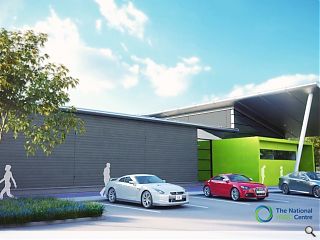 An electricity testing centre designed to ease introduction of high voltage direct current (HVDC) transmission lines in Britain has broken ground in Cumbernauld.
Located on Oki Way the centre is being built by CCG to designs by BSP Architects and will be operated by Scottish Hydro Electric Transmission as a testing centre for the energy industry to trial the technology ahead of rolling it out for real.
Proponenets point out that such technology is ideal for subsea and long-distance transmission, a potential boon for connecting planned renewable energy installations in remote corners of the country.
Jamie Hepburn MSP said: "In addition to playing a crucial role in supporting the future of the country's electricity network including major transmission reinforcement between Caithness and Moray, the centre will support construction jobs and once the building is operational it will create new high-skilled jobs in the area."
The HVDC Centre is set to open in 2017 and will complement a growing centre for excellence in the power industry around the town, following completion of the
Power Networks Demonstration Centre
and a Scottish Power training centre.
Back to September 2016