£6m Inverness student housing complex opens
August 31 2016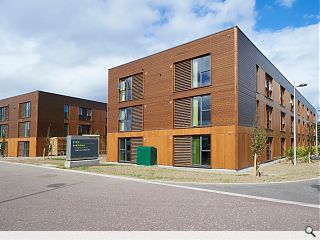 The University of the Highlands and Islands has opened a £6m student housing development at its Beechwood Campus, Inverness, adding 150 new bedrooms to its estate.
Built using pre-fabricated timber frames produced by Robertson Timber Engineering to designs by Keppie accommodation is divided between single rooms with private kitchens and studio rooms with shared kitchens.
Mike Turner, managing director of Robertson Timber Engineering, said: "By using fully insulated timber frames, complete with floor cassettes manufactured off site, the project team has been able to maintain progress throughout the difficult weather conditions and quickly get to a stage where the flats are resistant to the weather."
The project moved on-site in September last year
and was delivered by specialist student housing developer Cityheart.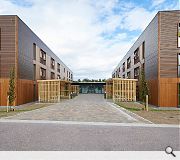 A modular construction technique was employed to speed delivery of the complex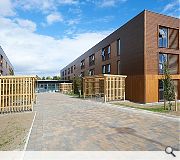 The development will allow more students to choose Inverness for their studies
Back to August 2016