Port Dundas canal regeneration wins council grant
August 25 2016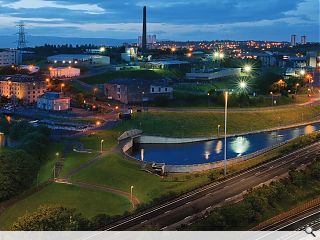 Glasgow City Council has approved £5.6m of grant funding with Scottish Cabals and Bigg regeneration to regenerate the Forth and Clyde canal where it passes through Port Dundas.
The cash will be used to progress a site remediation, access and infrastructure programme to facilitate development of a vacant site at 100 Acre Hill, formerly a distillery, whilst also allowing a business case and detailed designs to be drawn up.
Council Frank McAveety, Leader of Glasgow City Council and chair of the Glasgow City Region City Cabinet, said: "These agreements mark the next stage in the regeneration of the canal corridor, and will take what has already been achieved in the area in recent years to another level. The north side of the city centre has great potential, and unlocking this through remediation and flood protection makes the area very attractive to developers and investors from both the public and private sectors."
The development of the 100 Acre Hill site is key to the regeneration of the north canal area as it will improve connectivity between the city centre, Sighthill and Possilpark. It is estimated that the site could hold up to 500 homes and 6,000 square metres of commercial space.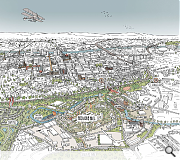 An aerial view of the 100 Acre Hill masterplan
Back to August 2016