Modular exhibition space pops up in Edinburgh
August 25 2016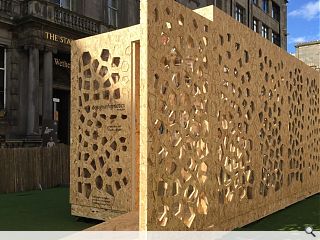 Biomorphis Architects have collaborated with designer Mark Kobine to fabricate a modular exhibition space as part of the Edinburgh Digital Entertainment Festival.
Design Informatics was commissioned by the eponymous University of Edinburgh department to showcase the work of its researchers and master students using a low cost, rapid assembly design.
The resulting modular space can be assembled in a single day from standard sheets of OSB 3 that have been CNC routed and built into portable cassettes, and can be modified to suit varying requirements.
Explaining this process the designers said: "Interested in how digital technology can be efficiently used to design an affordable modular structure, biomorphis developed an algorithm to test and generate different cellular divisions to form a self-supporting lightweight building envelope. The cellular pattern density varies as required by the exhibition inside and is applied to both the inner and outer surfaces of the building, each with its own parameters. It demonstrates how computer algorithms are assisting designers to develop a parametric architecture that is strong, lightweight and evocative to the eye."
To maintain its clean lines and open views a concealed pitch roof hides guttering, downpipes and cabling.
A concealed pitched roof, guttering and downpipes allow the building to maintain its clean, uninterrupted lines both outside and in.The cassettes are accessible from the inside to allow cabling for exhibits to be installed yet remain hidden.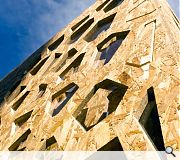 Irregular perforations create a series of shifting views in and out of the space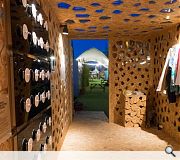 The installation will remain in-situ on Georges Street, opposite the Assembly Rooms, throughout August
Back to August 2016