Glasgow nightclub makes way for more student housing
August 19 2016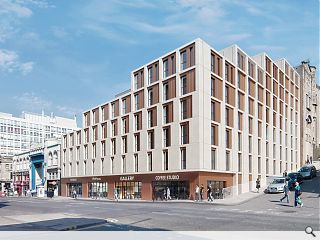 A Glasgow nightclub is to make way for the city's latest student residential build, following
submission of plans by Haus Architects on behalf of GRS
, owners of ABC 1 and 2.
185 studio flats will be housed in a single building extending from three to eight storeys as it rises from
Sauchiehall Street up Dalhousie Street
, with ground floor retail provision stretching along the former and a central lightwell drawing daylight to the interior.
The scheme also adopts a structural solution allowing for apartments to be combined post construction to allow the applicant maximum flexibility in configuring layouts to meet greatest need.
In their design statement Haus remarked: "Adopting the simple rule of three – stylobate/base, portico/middle, entablature/roofline we have developed the elevations to address how each building touches the ground to engage with the city streetscape; the main body of the composition and how it creates visual interest that is legible from eye level; before finally addressing the composiition to the top of each building as it engages the skyline."
Faced with smooth pre-cast concrete with copper rainscreen panels the build will include a range of Internal and external amenity spaces.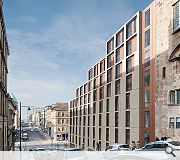 A residents roof terrace will be built around a central lightwell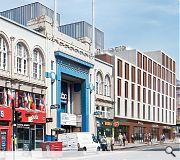 The building occupies a sensitive plot immediately south of Mackintosh's School of Art
Back to August 2016