Second Arran distillery goes down a treat with planners
August 10 2016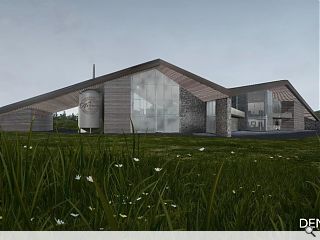 Isle of Arran Distillers have obtained planning consent for the
construction of a second distillery on the island
, together with an associated visitor centre and warehouse, which will be built on a greenfield coastal site at Kilmory to allow production to be ramped up.
The new site will focus on producing a heavily-peated whisky to set it apart from an existing distillery in Lochranza within a structure drawn up by Denham Benn Architectural Design.
This sees the facility follow the natural contours of the site with natural materials such as timber, natural stone and topped by a signature sedum planted 'wave pattern' roof intended to reflect proximity with the sea, mountains or a bird in flight.
In a planning statement Peter Brett Associates said: "In seeking to deliver this development Isle of Arran Distillers have sought to create a unique building of considerable architectural merit that will become a landmark on the island. The attention to detail, the carefully considered design influences, the use of materials including the sedum roof, and Arran itself have combined to create a lasting piece of architecture and a tribute to the natural ruggedness of the southern end of Arran.
"The warehouse buildings are acknowledged to be of lesser architectural interest, however they are an inextricable part of the whisky making process and their presence will be unobtrusive."
Construction is expected to get underway by October for completion by July 2018.
Back to August 2016