'Unrecognisable' car park heading for Aberdeen hospital
|
Send to friend
July 25 2016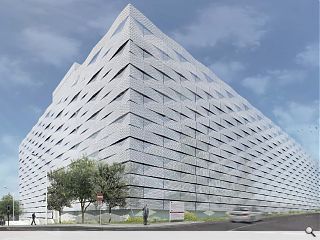 NHS Grampian has
lodged plans for a JM Architects penned multi-storey car park
within the grounds of Aberdeen Royal Infirmary to cope with increased visitor numbers.
Situated opposite the hospital's main entrance the scheme will supplant an area of surface parking the scheme aims to challenge perceptions of what a car park can be through use of a singular modular skin that is out of kilter with the parking bays behind.
This attempt at 'de-scaling' takes the form of a series of horizontal undulating metal panels with each panel slightly offset from the next to create a ripple effect which will reflect natural light by day and glow internally by night.
Explaining the concept the architects observed: "Rather than express the buildings scale we have chosen to 'de scale' it. And rather than express a recognisable form [a car park] we have chosen to create something more 'unrecognisable', that is something that challenges what a car park can look like."
Outlining how this works in practice the architects added: "We have designed the overall form as singularly as possible. Recognisable features such as cores and escape stairs have been 'absorbed' into the overall form while clarity of signage and navigation is maintained.
"The resulting 'pavilion' sits upon a high quality modular pre cast concrete base. The modules are coordinated with the façade cladding modules. There is a truth and authenticity to the base as it also acts as a primary structure for the car park."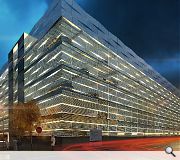 The car park will change character dependant on the prevailing lighting conditions
Back to July 2016