GRAS float plans for Water of Leith pub extension
|
Send to friend
July 22 2016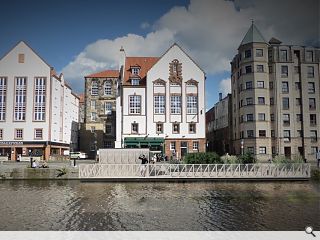 GRAS Architects have
tabled plans for a £50k extension to the Malt & Hops pub, Leith
, which wills see the watering hole expand out over the adjacent Water of Leith.
A timber 115sq/m timber barge-style deck will be built out from the riverside which can rise and fall with the changing tides whilst tethered to the dockside to prevent patrons being left all at sea.
Accessed by a movable gangway the unconventional space will host a bar, toilets and seating area to the south of Bernard Street Bridge and will sit below the level of Shore Street to minimise intrusion upon the surrounding conservation area.
In a design statement Stuart Falconer of GRAS wrote: "The planked deck will be supported by a box iron steel frame on ballasted floats. Fixed to this will be an integrated timber framed handrail clad in flush finished translucent acrylic. The exposed timber frame principle will continue to the entire perimeter and at the north end extended to form the servery, store and accessible WC. The structure will be moored against the dock with fixed arms which are capable of moving up and down with the slight tide. The finishes throughout have been kept intentionally restricted and enhanced using simple forms and modern architectural detailing.
"Although the design is not specifically nautical, the overall form is inspired by approved barges
and Leith's history as a port."
Back to July 2016