Collegelands student housing expansion proposals updated
|
Send to friend
July 11 2016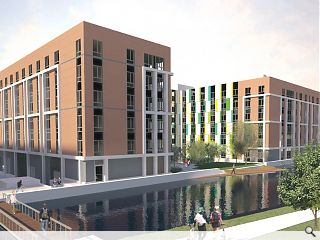 Anderson Bell Christie Architects have amended a previous consent to erect a
458 bed student housing block
within Glasgow's Collegelands on behalf of developer Vastint, being progressed in tandem with plans for a
Moxy branded hotel
.
The 'S' plan build will be activated at ground level with a reception, seating areas, study zones, gym, games zones, movie room, laundry facilities and a mailbox area which will wrap around north and south facing courtyards accommodating entrance spaces, bin stores and cycle racks.
Recessed courtyards will be faced in horizontal terracotta panels in an evocation of the white tiles used in traditional Glasgow block courtyards with elements of colour introduced via the use of light yellow and green laminate panels.
Primary facades will be clad in terracotta coloured fibre cement panels redolent of archetypal Glaswegian red sandstone.
In their design statement the architects observed: "The primary concept for the elevations is to create a set piece which constitutes a bottom (the glazed ground floor or dark grey plinth); middle (bays formed in PPC aluminium express framing, glazed screens & light weight cladding); and top (terminated precast elements).
"The PPC aluminium express frame protrudes from the main building line (horizontally & vertically), giving it depth, whilst allowing it to divide up the elevation into composed bays. This strategy is altered slightly at the kitchen corners to accentuate them and define their compositional importance."
The entire composition will face a landscaped SUDS canal feature replete with timber jetty and cycle path with the architects likening the water feature to a castle moat.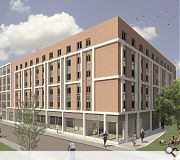 Interior courtyards take their cue from the traditional Glasgow block - albeit with an added splash of colour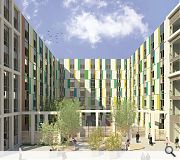 The scheme will front a SUDS pond landscaped to resemble a canalbank
Back to July 2016