'Landmark' Aberdeen hotel and student towers go in for planning
July 11 2016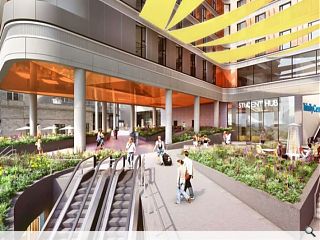 Halliday Fraser Munro Architects acting on behalf of Atholl Square Developments have
drawn up plans for a 'landmark' student housing development and public square
outside Aberdeen railway station.
Replacing the existing Atholl House, built in the 1970s, the scheme aims to improve connectivity between the station and Union Street by decking over the existing railway tracks. Above this will rise a trio of towers, the highest of which will sit in the centre as part of a 'rising wave'.
In their design statement the architects said: "Activity at high levels is articulated through inset windows and balcony's to the fronts of the blocks. The top levels of each block are terrace areas that provide private amenity space for the students and a bar / restaurant space for the hotel. These areas are selectively screened by an angled foil which is sculpted to provide views across the city towards key locations as well as give a dramatic addition to the skyline.
"The tops of the buildings have been sculpted and carved to provide a softer finish to the buildings which relates more to the historic spires than the modern boxes. This has the effect of the buildings sweeping up rather than ending abruptly.
"The cladding uppermost levels break down; gaps in the cladding allow users of the terraces to grasp views and act as a foil to the plant accommodated at roof level. These gaps also allow the sky to be visible through the uppermost levels and further reinforcing the idea of the building merging with the sky."
The proposed towers will be clad in anodised aluminium.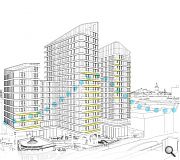 A trio of towers will rise as part of the scheme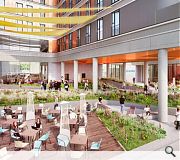 The proposal is described as an 'urban intensification'
Back to July 2016