Moves to position Prestwick Airport as space hub gather pace
June 1 2016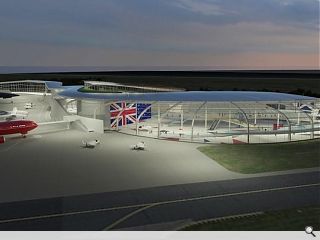 South Ayrshire Council is putting its weight behind efforts to position Prestwick Airport as a hub for Britain's space industry with a two year support package worth £240k designed to promote the airport as the ideal home for a new spaceport.
This cash will be used to fund infrastructure work and building the business case for the venture following a decision by the Department of Transport to press ahead with licensing a network of UK Spaceports, for which Prestwick is a lead contender.
Eileen Howat, South Ayrshire Council's chief executive commented: "Recent news of the licensing framework for spaceports means that Prestwick stands the best chance of being the UK's first commercial hubs to service growing demand for industrial and tourism space related services."
Should Prestwick secure a prized license it is estimated that the project could be worth as much as £320m to the local economy over the next decade.
Stornoway, Newquay, Machrihanish and Llanbedr
are also in the running for a spaceport.
Back to June 2016